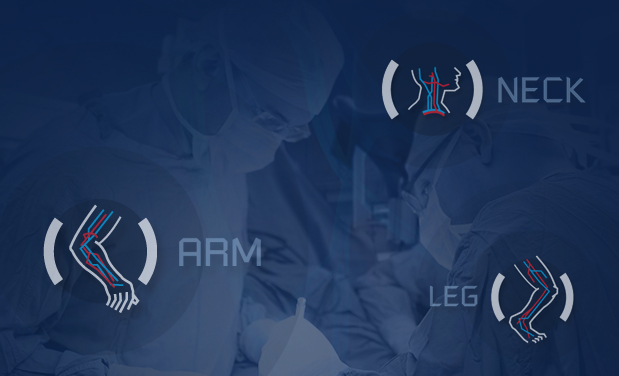 The vascular and vein surgery team deals with arterial and venous diseases outside the chest.
Conditions
We treat emergency situations like strokes and abdominal aortic aneurysms as well as chronic conditions including peripheral artery disease and varicose veins

Vascular (Blood Flow) Tests
TCD—Uses ultrasound to evaluate cerebral arteries.
Carotid studies—Evaluates the carotid arteries that supply blood to the brain using ultrasound.
Peripheral venous studies—Evaluates veins in the arms or legs through ultrasound to determine the presence of deep venous thrombosis (clots).
Peripheral arterial studies—This study uses ultrasound to evaluate blood circulation in the arteries of the arms or legs.
Renal artery duplex—Arterial imaging of the abdomen to evaluate renal artery stenosis.
Abdominal duplex—Arterial imaging to evaluate ischemic bowel dysfunction.
Treatments
One of the team's newer treatments is laser varicose vein removal which offers relief to patients with varicose veins.
They also have a state-of-the-art light-guided catheter to treat blockages in the leg arteries of PAD patients.
For spider veins, our team offers sclerotherapy, an in-office, injection-based treatment.
Call (618) 222-1020 or (618) 257-VEIN to schedule an appointment.