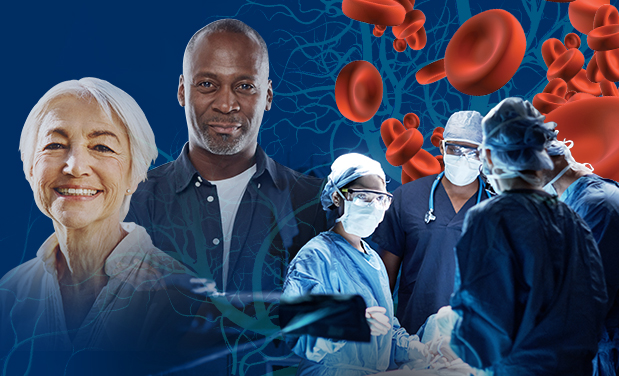 Our goal is to provide safe, quick, and effective dialysis interventions, so you can get back to your dialysis treatments with minimal delay.
If you're currently on dialysis or will need it in the future because of end-stage kidney disease, the MetroEast Dialysis Access Center is here for your complete dialysis access care and management needs.

We can provide everything from dialysis access creation to comprehensive vascular surgical care, including minimally invasive treatments and traditional open surgical therapy.
Our services
Dialysis access
The three main types of dialysis access are arteriovenous (AV) fistula, AV graft, and tunneled catheter. We can perform each of these at the MetroEast Dialysis Access Center.
AV fistula—To create an AV fistula, your surgeon will connect an artery and vein in your arm. This can be done surgically or through the WavelinQ EndoAVF system. The WavelinQ system uses an endovascular approach to create the AV fistula. It's a minimally invasive procedure that uses two thin, magnetic catheters and radiofrequency energy to make the connection between the vein and artery in the upper forearm without surgery. The fistula is the preferred access option for many patients needing long-term dialysis because it lasts longer than other options and there is a lower risk for complications. When the AV fistula is ready, it can then be accessed for dialysis treatments.
AV graft—This is like an AV fistula, except a special plastic tube is inserted into the arm beneath the skin between an artery and a vein. The tube can then be accessed for dialysis treatments.
Tunneled dialysis catheter—Sometimes kidney disease is not permanent or other access options are not possible. In these cases, a special plastic tube that is external is placed in the vein in the chest or neck and can be used for dialysis treatments
In addition to dialysis access, our team can repair any complications that may occur after the access procedure, such as infections, narrowing vessels, or blockages.
Ultrasound evaluation
Before the dialysis access procedure, we can perform an ultrasound, a non-invasive imaging technique, to see which veins and arteries would be the best to use for a fistula or graft. Ultrasound can also be used to help find out why a fistula or graft isn't working properly and the best way to treat it.
Fistulogram
A fistulogram is a minimally invasive imaging tool that may be used when a fistula or graft stops functioning correctly. Using an IV contrast and x-ray, our team can more closely see the blood vessel to determine if it's too narrow, enlarged, or blocked.
Balloon angioplasty and stenting
When a fistulogram shows narrowing or blockages of the fistula or graft, minimally invasive balloon angioplasty and/or stenting procedures may be needed to open it back up and improve blood flow. When an angioplasty balloon catheter is placed in the narrow part of the vessel and inflated, it reopens the vessel allowing the blood to flow properly. Some patients may also need a stent (wire mesh tube) placed if the balloon angioplasty alone doesn't open the vessel.
Surgical corrections
Sometimes despite the many minimally invasive procedures that can be performed, open surgical correction of existing access or the creation of new access is necessary. This can be because of blocked off AV access, problems that cannot be fixed by balloons or stents, enlarged vessels called aneurysms, or infections. We will coordinate and perform all aspects of the surgical care of your dialysis access if deemed appropriate.
Our team
The dialysis access center team is made up of highly skilled vascular surgeons and advanced practice providers from BJC Medical Group Vascular & Vein at Belleville. We also have a nurse navigator to help educate you and coordinate your care through the MetroEast Dialysis Access Center.
Conveniently located
The MetroEast Dialysis Access Center is conveniently located at Memorial Hospital Belleville. And because we are part of BJC HealthCare, we are backed by world-class specialists and technology when it's needed.
MetroEast Dialysis Access Center at Memorial Hospital Belleville
4600 Memorial Drive, Ste 180
Belleville, Illinois 62226
(618) 491-9850
Talk to your doctor about a referral to the MetroEast Dialysis Access Center at Memorial Hospital Belleville.