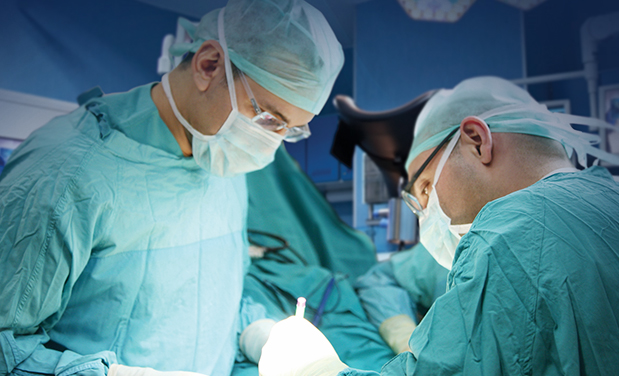 The cardiothoracic surgery team sees patients with coronary artery disease, valvular heart disease, and thoracic diseases of the lung.
Working with the cardiology team, they perform a surgical evaluation, examine the data provided by primary care and cardiac physicians, and propose a surgical plan. The team performs many types of open heart surgery—from coronary artery bypass to complex valve procedures—offering patients treatments that can be found at institutions across the country.



Aortic Surgery
Used to treat aneurysms (weakenings), dissections (tears), and ruptures (breaking open) of the aorta, the main blood vessel leading from the heart.
Coronary Artery Bypass Grafting
The recommended treatment for people with disabling angina, or those who have a severely blocked left main coronary artery.
Minimally Invasive and Robotic Cardiac Surgery
Employs smaller incisions than traditional open heart surgery, reducing postoperative pain, recovery times, and scarring for patients.
Pacemakers and Defibrillators
Implantable cardioverter defibrillators (ICDs) are mechanical treatments for heart arrhythmia, used to give electrical shocks to the heart to restore regular rhythm.
Ross Procedure
The Ross Procedure is a surgical option for children and young adults with diseased aortic valves or aortic valve failure.
Other Techniques
A range of heart valve repair and replacement techniques are available, including the innovative Bow-tie procedure and the EVEREST II clinical trial for non-invasive mitral valve repair.